Food Concept Catering started in 2021 its activity in the field of event catering. Aiming to provide a high level of service, it has introduced haute cuisine as the basis of the menus it provides, for the full range of events it undertakes.
Visit the company's facilities in Zakynthos, Pastreika area, meet the team and plan your event based on your special needs.
The maximum utilization of a large network of human resources & professional partners, in combination with the policy of "Food Cocnept Catering" turn your event into an unforgettable experience with a unique impact, ensuring images & memories that do not change over time. The impeccable equipment, the experienced staff, the high knowledge and art of gastronomy, as well as the perfect organization give a complete result.
Food Concept Catering undertakes to organize for you a wide range of events that includes:
Wedding
Baptism
Party
Corporate Events
Store Opening
Product Presentation
Festive events
Meet the Chef
Alexandros Patrinos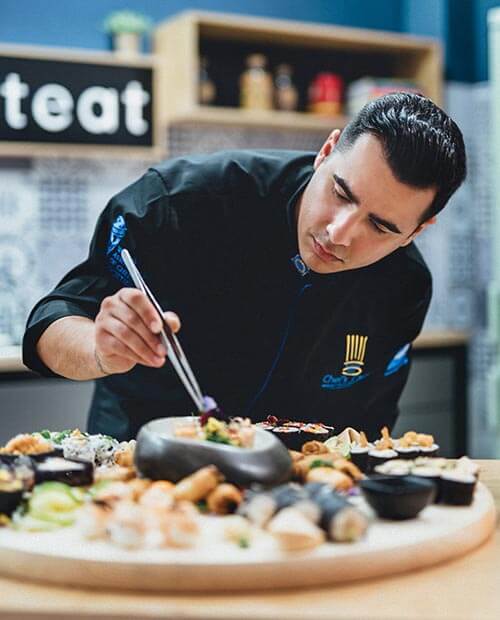 Alexandros Patrinos
Executive Chef
Alexandros was born and raised in Patra. He studied at "AKMI" cooking school, while he was actively cooking in kitchens accomplishing his internship. After completing his studies, he began his professional career in Athens. For the next 2 years, he worked in restaurants and hotels, while at the same time he specialized in meat and fish.
The intense and special temperament of Zakynthos won the heart of Alexandros, as he chooses this place to develop his knowledge and creative talent, with a focus on Greek Creative Cuisine, until now.
As a restless and creative spirit, in 2021 Alexandros decides to expand the art of enjoying fine food by creating the "Food Concept Catering" in Zakynthos, undertaking the menus for Weddings, Christenings, Birthday Parties, and receptions.
His interest in the healthy Mediterranean diet leads him to another creative activity. In collaboration with renowned nutritionists, Alexandros and his cooking team create and implement daily menus for those who decide to follow healthy eating habits.
Food Concept Catering Zakynthos
Menu